Serra Grande
>
Lodging
>
Hotels pousadas
Search results 1 - 1 of 1
---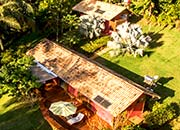 Sítio Refúgio Bungalow
Rodovia Ilhéus-Itacaré Km 41 - Serra Grande
1 rooms
Located in the heart of the Environmental Protection Area - Itacaré - Serra Grande. Sítio Refúgio - Bungalow is the ideal starting point to visit wonderful beaches and waterfalls in Costa do Cacau, South of Bahia.
Offer a confortable bungalow eith a kin size bed, air conditioning and fridge.
---
SERRA GRANDE
Building a Carbon Free Destination

In Itacaré and Serra Grande, look for the «Carbon Free Tourism Certification Program» seal exposed in hotels, restaurants and other services.

The funds gathered through the program are redirected to traditional small-scale farmers to plant trees which will neutralize CO² emissions of the program contributors.

» Carbon Free Certification Program
» Carbon-Free Certified Services

Program directed by the Movimento Mecenas da Vida (Patrons for Life Movement)