Serra Grande is a small quiet town located on the southern coast of Bahia, in the heart of the tropical forest fronting a beautiful long sandy beach. The town is built on the top of a green hill looking over the virgin Atlantic forest and the clear blue ocean. Serra Grande has managed to stay as original as it gets through out the tourist-boom over the past years, by preserving Nature and the Bahian culture.
Serra Grande, Bahia

SERRA GRANDE
The Village • Atlantic Rainforest • Environmental Protection Area • Eco Adventure • Guidelines for walks on trails • Photo Gallery • Videos
GUIDE
Houses for rent • Services • Properties for sale • Institutions, Associations, NGO's
MAPS
Map of beaches • Map of APA • Roadmap of Southern Bahia • Weather forecast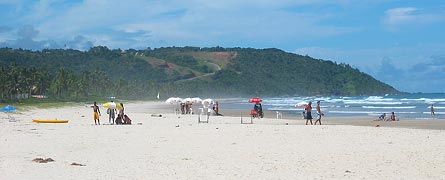 © Copyright 2017 ITACARE.COM Serviços Virtuais Ltda • Espaço Urbano - Rua Lodônio Almeida 163 - Sala 7 - Centro - Itacaré - Bahia • Tel. +55 73 3251 3143 • email • blog
Equipe ITACARE.COM: Christophe Jean, Marcelo Fantucci, Nigia Christina Vieira, Marina Rootham.
Special thanks: Ana Laura Ferreira, André Wood, Kalalea, Fábio Bezerra de Lima, Natalia Borini Prida, Juliana Machado, Denise Terranova, Nice Vidal, Arnaldo Faustino dos Santos, Eric Feathers, Maya Aletti, Christophe Campana, Eloísa Urrutia • Photos: Mario Nogueira, Lupércio Oliveira, Nuno Borges, Alexander Pfiffner, Irado, Paulo Opipari and ITACARE.COM team. Other photos provided by the site advertisers.