Pé de Serra
With fine sand and calm waters, excellent for bathing, Pé de Serra beach offers diverse options for leisure.
This long beach is great for walks and for playing beach sports such as frescobol (beach tennis). For the more energetic this beach is also great for surfing and for paragliding.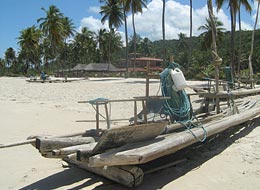 There are a few beach huts spread along the beach which are often frequented by inhabitants from the surrounding towns, giving the opportunity for visitors to mix with the locals.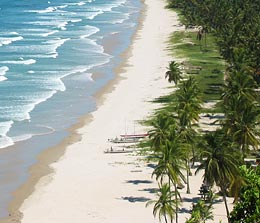 The coming and going of the jangadas (local rafts) that fish about 5 miles of the coast near to the reefs also attract the attention of everybody passing by here.
How to get there: Follow the BA-001 highway in the direction Ilheus – Itacaré. After travelling for about 30 kms from Ilheus you will see the town of Serra Grande on the right-had side. Coming from Itacaré the journey is about 36 kms.